Shop Hours
Mon - Friday
7am - 6pm
Saturday
7am - 6pm
Sunday
7am - 6pm
That's right ...
7am to 6pm
7 days a week to better serve you!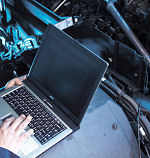 www.TaylorMadeTruckRepair.com
Conveniently located off of Highway I-44 in Missouri at exit #72 (Chestnut Expressway), Taylor Made Truck & Trailer Repair offers a complete selection of over-the-road needs and a complete truck and trailer repair service.
4620 W. Chestnut Expressway
Springfield, Missouri 65802
417-865-3484
Fax: 417-873-9195

Services
Fleet Maintenance
Road Service
Gearbox Repairs
Axle Repairs
Roof and Body Repairs
Bumper to bumper repairs
Fully Computerized Diagnostics
And much more ...